Risks are inherent in running a business—entrepreneurs deal with a wide range of risks daily. These risks faced by entrepreneurs are part and parcel of their ongoing job. Accidents occur anytime in a business—for instance, a natural catastrophe destroying property, an employee getting hurt at work, or a client bringing a lawsuit alleging a contract violation.
While operating a business has some risks, seasoned business owners know that the right business insurance is as essential as a business plan, new product development, or marketing strategy in ensuring a company's health and survival. Having insurance makes you feel secure and assures you that you will be taken care of in an emergency.
You need insurance for your business for a variety of reasons. It is vital to:
Protect your business from any possible damages
Save time and money and make yourself stress-free
Offer perks to your workforce
While insurance is incremental in securing the business's stability, the insurance requirements are based on prospective risks that vary depending on the environment in which a company works.
Let us walk you through the significance of securing your business with the right insurance, but first, let us delve deeper to know what business insurance is—what type of insurance you need for your business, and how they work.
Understanding business insurance
Business or commercial insurance is a type of financial service explicitly designed to secure businesses and their stakeholders against unforeseen events resulting in financial losses. Various insurance products are designed specifically for different types of enterprises that make up a business insurance.
Business owners are financially exposed in the case of a loss—they must carefully evaluate and analyze their needs for business insurance. Business insurance will shield your business against claims made against natural catastrophes , theft and break-ins, employee illnesses and injuries, and the inability to provide employee wages during difficult times.
If a business owner chooses not to get business insurance, their operation will be impossible to continue in the event of such a loss because many companies choose not to do so. This choice will turn out to be costly.
Types of insurance your need for your business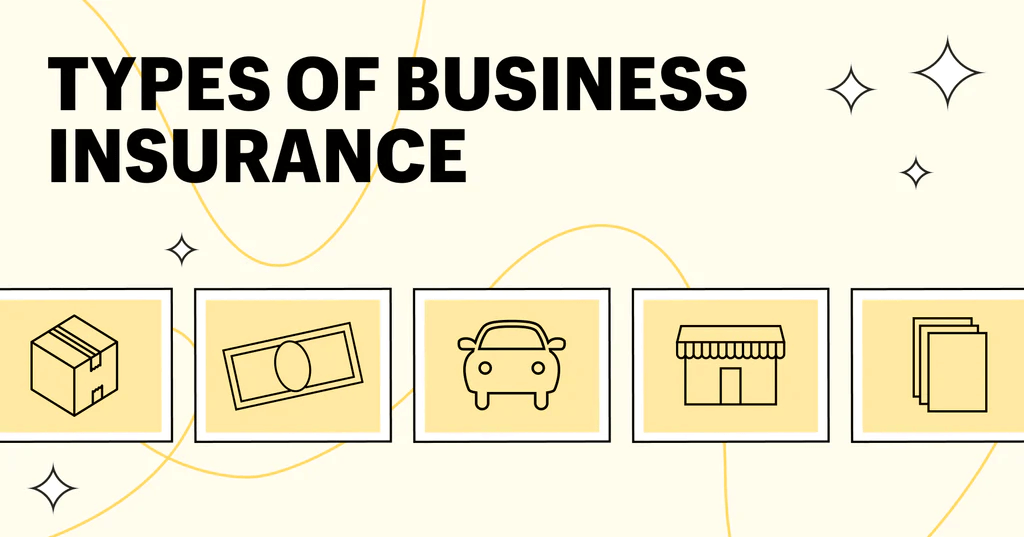 Several types of insurance that businesses need to ensure they are protected are:
Commercial property/vehicle insurance
In the case of a fire, storm, or theft, business property insurance will cover the equipment, inventory, signage,  and furnishings. You'll need a different policy if your region is vulnerable to floods and earthquakes, as mass-destruction incidents like floods and earthquakes are not covered. In the event of a claim, the property insurance coverage will either pay the insured the replacement cost of the damaged item or the actual worth of the damage.
Vehicle or auto insurance covers you for damage to the vehicle and pays any expenses to third parties who are harmed or sustain property damage resulting from your vehicle. You must be aware that your personal auto insurance coverage will not completely cover your usage of your vehicle for business activities.
Professional/product liability insurance
Professional or product liability insurance protects you against negligence claims brought about by mistakes or poor performance. You will need liability policies that are more particular based on your business type. Professional liability insurance is not a one size fits all solution. Every industry has specific issues that must be dealt with.
If a product's flaw results in damage or bodily harm, you'll be protected financially by good product liability insurance coverage. The coverage you require will depend on how many items you deal with and how risky they are.
On the other hand, if you offer services, you face a different sort of risk. Although you don't sell tangible goods, you make some service mistakes that cost your clients heavily. It's essential to consider professional liability insurance since mistakes or carelessness will result in comparable losses for most service-based organizations. In that situation, the customer will have a solid claim for reimbursement against you.
Business interruption insurance
When any event, like a repair or shifting of the premises, disrupts the regular business flow, business interruption insurance reimburses the company for its lost income. This is a terrific approach to ensure you continue making payroll and paying your expenses while your firm is temporarily shut down. Businesses that need a physical place to do business, such as retail outlets or manufacturing facilities, are particularly suitable for business interruption coverage.
Business liability insurance
Business liability insurance, sometimes called general liability insurance, helps your business cover the liability claims made against your company. It supports defending your company against lawsuits for causing bodily harm or property damage to third parties.
These commercial liability lawsuits, which are highly expensive, sometimes arise during your regular activities. Without coverage, you'll be responsible for covering all defense expenses alone. Make sure you have the appropriate company liability insurance to prevent this.
Importance of choosing the right insurance for your business
Successful business operations usually include some level of risk. Sometimes a client initiates a lawsuit, a natural calamity destroys the entire business setup, or someone is hurt while working on the site. Under such circumstances, choosing the right insurance for your business is crucial for securing and protecting your business assets .
Let us dig deeper into some fundamental reasons insurance is essential in protecting your business.  
Provides insurance coverage for your specific business needs
Entrepreneurs will be able to customize their insurance protection to match the unique risks that their company faces, thanks to the large range of business insurance coverages that are available to protect their specific business needs.
Consider the crucial components of your business operation that require protection when selecting coverages. These will consist of:
Your business location
The nature of your business
Customers and employees
Property and machinery
Intangible assets
Businesses, for instance, that deal with automobiles have inherent risks—in particular, car carriers that use expensive car haulers must obtain commercial vehicle insurance to safeguard themselves against this risk. With CoverWallet's insurance for car haulers , your business operations will run without hassles, and you will be able to operate smoothly.
This is mainly because car carriers are costly, and the expense of restoring them after an accident will significantly affect your profitability. Additionally, you will ensure getting your business insurance customized to your specific needs.
Offers protection against natural disasters
In case of natural disasters, business operations are affected severely—business insurance is crucial for protecting the property and assets of your company in the event of a calamity. The insurance will compensate you for your business losses while your operations are shut.
Securing against income loss will assist a company in surviving a significant catastrophe. The insurance pays you the revenue your business will otherwise generate while not operating. Business insurance covers costs you will otherwise pay during that period, such as rent and electricity. Some businesses opt to cover employee payments for up to a year in addition to lost income insurance.
Business insurance builds credibility
Business insurance not only safeguards your company, but it also has certain other benefits, and the most significant is that it builds your credibility. Your clients and vendors will see that you take risk management seriously by looking at your policies.
Additionally, it shows everyone that, no matter what happens, you'll offer the proper protection to each stakeholder.
Enables you to make confident plans
While certain things in life aren't sure, you will be able to build an effective plan for the future and be reasonably confident that your approach will succeed by employing proper planning, management, and tried-and-true instruments like insurance.
With a part of the uncertainty that is reduced insurance, company owners will be confident to focus more on growing their businesses rather than coming up with contingency plans for improbable scenarios. Business owners make a logical investment in the longevity and continuity of their companies when they get the necessary insurance.
Defends against legal action
Your company will go out of business if you don't have insurance in the case of a lawsuit or liability claim. A mishap or even a broken contract will be fatal enough to end everything. Even if you win the lawsuit, the cost of your legal defense will force you out of business.
Liability insurance will give you peace of mind to focus on what matters—running a successful business—instead of worrying about what will happen.
Helps recruit and retain the best talent
People seeking jobs always look for more than a salary—today's job seekers seek additional and reasonable benefits to ensure their interests are adequately safeguarded. They look for health and life insurance in addition to other desired benefits.
You will attract and retain the best talent by offering your employees the right insurance they seek while looking for employment with you.
Securing your business with the right insurance
Businesses, especially the ones that are just getting started, will feel as though adding business insurance is a burdensome task to its duties and expenses. With the unpredictability of the world we all live in, time and experience have taught the business sector that it is preferable to insure your property, people, and commercial activities.
Combating daily challenges is a part of running your successful business to create a brand . You can run your operations smoothly if you know the importance of choosing the right insurance for your business.
Author Bio:
Surya Ranjan Pandita is a content marketer. He is always on the lookout for new optimization strategies and loves to create actionable content. Feel free to ping him on LinkedIn .
The post The Importance of Securing Your Business With the Right Insurance appeared first on Productivity Land .